New Coach Handbags for Spring 2021 have arrived online – and they're great!
(Contains affiliate links.)
Generally speaking, there are some pretty great happenings over at COACH these days. They recruited Jennifer Lopez as the face of a gorgeous new marketing campaign, have dropped a new sneaker to rave reviews and unveiled dozens of brand new Coach handbags for the Spring 2021 season.
Since their start more than 75 years ago, we've seen COACH go through many waves as a brand and it's great to see them carry on in the new decade.
For spring, we see new COACH handbags that are as perfectly classic as they are modern. They're equipped with great hardware, play nicely with the brand's signature canvas print, venture into fun color-ways and even play with florals.
NEW SUSTAINABLE APPROACH
The new handbags also take on more sustainable methods of sourcing materials! Several styles use upcycled leather from 1970s handbags and there's an oversized tote made from recycled plastic bottles. Is COACH a new eco warrior? They're not there yet — but it's nice to see them approach more earth-friendly methods and hopefully this is just the first step.
If you are on the hunt for something new to tote your belongings around in, I think you'll overall be quite pleased with this latest selection. The new bags are timeless and will make for long-lasting additions to your wardrobe – while also delivering a fresh spin for dressing up your day-to-day attire. The modern classic is a tightrope walk COACH is walking particularly well at the moment!
The spring 2021 collection is also quite versatile and offers everything from your perfect travel bag to sleek crossbodies and even backpacks. There is also a wide selection of wallets available for safely stowing your cash and cards.
For your sartorial viewing pleasure, I've rounded up for you all the new Coach handbags for spring 2020 below. Happy browsing and let me know what catches your eye!
---
New Coach Handbags for Spring 2021
The Hutton
Color-blocking, sleek hardware and a fresh take on the turnlock closure define the COACH Hutton. The bags also come with a long chain that can be converted into two short handles for added versatility.
The Cassie
If your a fan of the versatility of a crossbody bag, the COACH Cassie is for you! The original Cassie has three compartments inside and is large enough to fit an iPad mini. The 19 is a touch smaller and is ideal for those days and nights when you want a sleek on-the-go bag. (You know, for those occasions when you don't want to feel weighed down by bringing your entire life along with you.)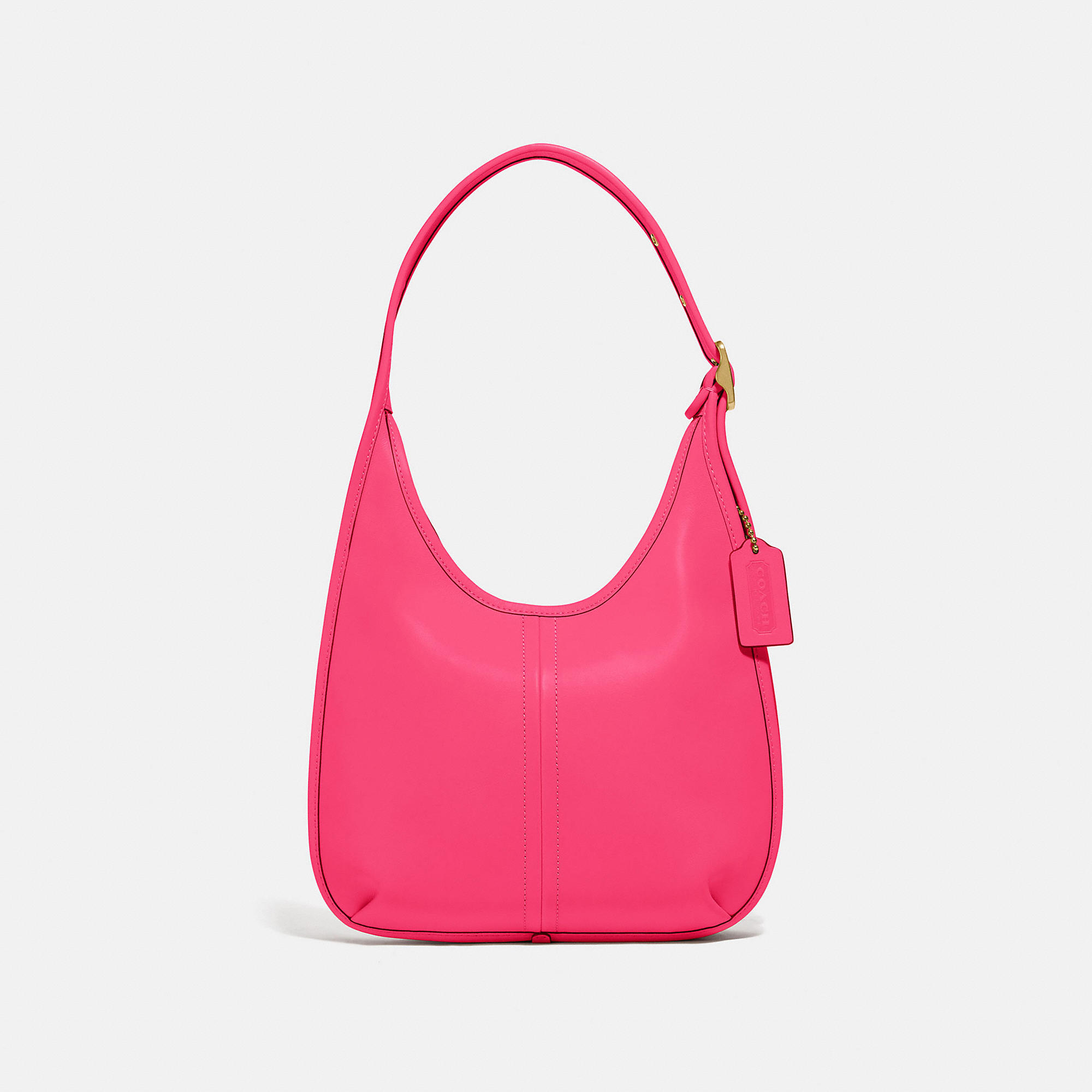 The Eco-Friendly ERGO
Crafted from COACH's natural leather — the Ergo is vegetable tanned, treated with naturally-sourced dyes and finished with organic wax for a soft touch. It's based on a classic 1960s silhouette and is part of a collection of archival bags that celebrate the brand's legacy while supporting their new commitment to rethinking and reducing environmental impact.
The Madison
The Madison is a timeless style with modern proportions—designed for work, weekends and everywhere life takes you. Crafted of refined leather accented with luxe hand-woven nappa leather Tea Rose knots, it's finished with an exterior pocket for easy access to essentials and our Signature turnlock closure. Convert the leather chain strap from long to two short handles.
The Swinger
Based on a 1980s design, the Swinger is a style of the new COACH handbags that plays on the brand's heritage. It features the iconic turnlock closure and can be worn under the arm with the short-strap or carried as a clutch.
The TABBY
The popular 1970s Tabby is back for the spring season – with a new cushiony appearance! The compact design features two detachable straps that can be carried by hand, styled as a short shoulder bag or worn as a crossbody.
The Turnlock
Our Turnlock Clutch is part of The Coach Originals, a collection of archival-inspired bags that celebrates our legacy and authentic New York heritage. Reimagined for today with interior multifunction pockets and an exterior slip pocket, the elongated design is based on a Coach silhouette from 1990. Finished with our iconic turnlock closure and classic edge-binding construction, it's crafted of buttery soft glovetanned leather. Wear it crossbody or carry by the top handle. Some styles are just too good to leave in the archives.
The Willis
The Willis is another style from the COACH Originals – a collection of archival-inspired vintage bags. It has a structured, top-handle design that first appeared in the 1990s. Carry it or use the attachable strap to style as a crossbody!
Wallets & Wristlets
Perhaps you're not in the market for one of the new COACH handbags for spring but do need to update your wallet! From accordion zip styles to a wallet version of the Hutton bag above and sleek wristlets, there's something in every style and size to fit your needs.
Which new Coach Handbags are your favorites?
---
Join the Dream Squad
Sign up for my weekly newsletter to receive exclusive dreamer content you won't find on Dream in Lace straight in your inbox. Let's be dreamers, together!
---
Stay stylish and chase your dreams!
XOXO
Kelly
TWITTER * INSTAGRAM * FACEBOOK
Follow